Rumour has it that Sony Ericsson is looking to shake up both the smartphone and the mobile gaming markets with the launch of a combined Xperia/Playstation-branded device.
According to a "trusted source" talking to Engadget, the company's first handset to be running a recent version of Android will be part of an effort to develop an entirely new gaming platform – a combination smartphone and PSP Go which Sony will be hoping can revive its fortunes in the portable gaming sector.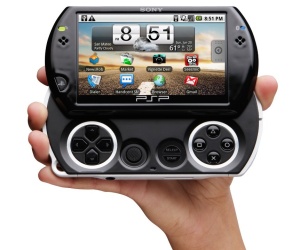 According to unsubstantiated sources, the device takes the form of a touch-screen Android-based smartphone with a landscape slider mechanism – but instead of revealing a keyboard, the slider opens to show a gaming control pad not entirely dissimilar to that featured on the PSP Go. Although mobile gaming is one of the biggest growth industries around at the moment, a lot of people complain that a touchscreen just isn't up to the job of controlling complex games – something which Sony may have solved with its hybrid design.
Other than the overall design – which Engadget's sources describe as "pretty damn sexy" – very little is known about the secretive device. It's though to feature a widescreen display somewhere between 3.7″ and 4.1in, and a 1GHz CPU at the bare minimum. Rather than the current Android 2.2, rumour has it that Sony will be delaying the launch until Android 3.0 – codename "Gingerbread" – is out, possibly hinting that the next-generation mobile platform will include enhanced gaming features.
Those who claim to have seen the device say that it performs at around the same level as an original Playstation or current Playstation Portable – which, if true, would offer some pretty impressive gaming potential.
While the claims are as yet unconfirmed, the launch of such a device makes sense: it's been quite a few versions since Sony Ericsson launched an Android smartphone, and Sony's gaming division won't have given up on its plans for a download-only gaming system – despite a poor reception for the PSP Go. The choice of Android is also looking likely, with the Gartner Group claiming that Android has grabbed 17.2 percent of global smartphone sales this quarter – up from just 1.8 percent this time last year.
As the device is still unofficial, there's no chance of pricing information – but given its feature set, you can expect the Playstation Phone to fetch a premium. As far as release dates go, Engadget claims that it could hit the market "as early as October of this year."
Is this the smartphone you've been waiting for, or do you have the same fundamental concerns with a Playstation Phone as you did with the PSP Go? Are you worried that this represents a push into download-only gaming – finally killing off the second-hand market?