Sony's First Flash-Based Camcorders
Tim Moynihan, PC World
timestamp(1231373700000,'longDateTime')Jan 7, 2009 6:15 pm
Sony has been one of the busiestcompanies at the Consumer Electronics Show in Las Vegas, with 15 newannouncements in the camcorder category alone. Among the new home-videoofferings are the company's first forays into flash-memory camcorders,with five new models that incorporate solid-state drives. Four of thefive camcorders capture standard-definition only.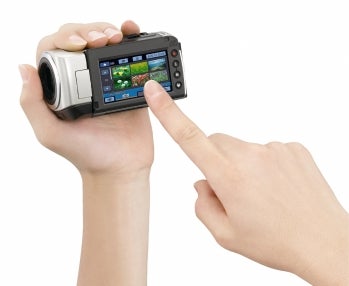 The only flash-based
high-definition camcorder
is the 8GB Sony Handycam HDR-CX100 (pictured above), which capturesmore than 3 hours of 1920-by-1080 HD video, shoots 4-megapixel stills,and offers
point-and-shoot-camera
-stylefeatures such as Smile Shutter (which automatically captures a stillimage when a selected subject in the video footage smiles) and facerecognition (which optimizes focus and other settings when a face isdetected in the frame). The CX100, which also has a 10X optical CarlZeiss zoom lens, will be available in March for $600.
On thestandard-definition horizon (available in March) are the Sony HandycamDCR-SX60 (16GB flash drive, $400), DCR-SX41 (8GB flash drive, $330),and DCR-SX40 (4GB flash drive, $300), all of which have an impressive
60X optical Carl Zeiss zoom lens
.In addition, the three new SX-series cameras each offer expandablestorage by way of a Memory Stick slot, as well as a 2.7-inchtouch-screen LCD.
The DCR-SX60 holds up to 10 hours ofstandard-definition video in LP mode, the DCR-SX41 holds up to 5 hours,and the DCR-SX40 holds up to 2.5 hours. However, while the DCR-SX60offers Super SteadyShot optical image stabilization, the DCR-SX41 andDCR-SX40 do not--something to think about, given the whopping 60Xoptical-zoom range.
Also in Sony's arsenal of flash-storagecamcorders for 2009 is the Handycam DCR-DVD850 ($430, available inFebruary), a standard-definition "hybrid" camcorder that records tothree different storage media: mini-DVD, Memory Stick, and a 16GB flashdrive, which stores about 10 hours of video in LP mode. The DCR-DVD850also features a 60X optical Carl Zeiss zoom lens, plus Super SteadyShotoptical stabilization and a 2.7-inch-diagonal touch-screen LCD.
(article from pcworld)