FRIDAY, MAY 4
SOLO: A STAR WARS STORY---two new videos were released.
Trailer link:
https://www.youtube.com/watch?v=TDNzJXAMLYY
Trailer link:
https://www.youtube.com/watch?v=DgaC0ytqdv4
THE LORD OF THE RINGS---Ian Nathan's book ANYTHING YOU CAN IMAGINE: PETER JACKSON AND THE MAKING OF MIDDLE-EARTH reveals that disgraced producer Harvey Weinstein tried to derail Peter Jackson's THE LORD OF THE RINGS franchise. Weinstein demanded that Jackson produce only one streamlined two-hour movie and threatened to replace him with Quentin Tarantino if he didn't agree to the producer's wishes. Producer Ken Kamins said, "'Harvey was like, 'you're either doing this or you're not. You're out'. And I got Quentin ready to direct it'".
Jackson has a 1998 memo from Miramax development head Jack Lecher which said Weinstein wanted Jackson to adopt a "more radical, streamlined approach" to THE LORD OF THE RINGS. Jackson replied, "It was literally guaranteed to disappoint every single person that has read that book. We'd rather have our lives and do our films and not deal with all this crap anymore. Tell Harvey to go ahead and make his film and good luck."
Weinstein was eventually persuaded to agree with Jackson's idea for more more than one movie.
SPAMALOT---20th Century Fox movie underway based on the Broadway musical which was inspired by MONTY PYTHON AND THE HOLY GRAIL. Eric Idle will return as the writer.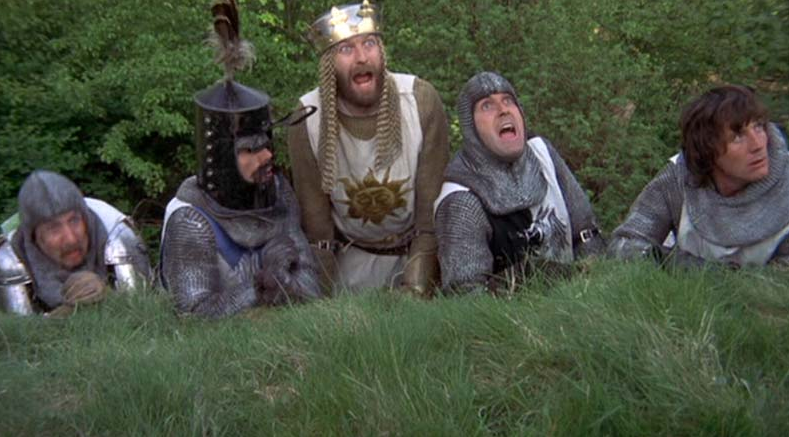 THE HEAVY---Paramount Pictures superhero movie underway with JJ Abrams as the producer. No plot details were released.
ACADEMY OF MOTION PICTURE ARTS AND SCIENCES---the Academy of Motion Picture Arts and Sciences voted to expel Bill Cosby and Roman Polanski after their sex scandals. Polanski's attorney, Harland Braun, said Polanski was "blindsided" by his expulsion and plans to ask the Academy to reconsider its vote.
LAST MAN STANDING---Fox is in talks to reboot the Tim Allen sitcom that was cancelled by ABC.
QUEEN AMERICA---Catherine Zeta-Jones stars in this Facebook Watch series about top beauty pageant coach Vicki Ellis who has the daunting task of trying to get hapless Samantha Stone to be crowned Miss America.
CHARLIE JOHNSON IN THE FLAMES---Liam Neeson will star in this movie based on the novel about a BBC war correspondent who investigates a woman's murder in the Congo and discovers a conspiracy.
ARRESTED DEVELOPMENT---Jeffrey Tambor will return for Season 5 after speculation was he might not be back due to his TRANSPARENT sex scandal.
INDEPENDENCE DAY---Dean Devlin said he's no longer involved with his two hit sci fi movies, INDEPENDENCE DAY and STARGATE, "I really don't know, after GEOSTORM I really came to the realization that I'm not the kind of guy who should ever work at studios, so I excused myself from both STARGATE and from INDEPENDENCE DAY, so they may be going forward but I don't know, I'm not involved anymore."
MALEFICENT 2---Chiwetel Ejiofor is in talks to co-star in the sequel for an undisclosed role.
WHAT WE DO IN THE SHADOWS---FX tv series underway based on the vampire mockumentary.
UNBREAKABLE KIMMY SCHMIDT---Season 4 will be the last season with Netflix planning a tv movie as the series finale.
TRIVIA---Christian Slater, a self-professed Trekkie, has a cameo in STAR TREK VI: THE UNDISCOVERED COUNTRY thanks to his mother, May Jo Slater, the movie's casting director.
Slater said his uniform in the scene was worn by William Shatner in STAR TREK II: THE WRATH OF KHAN and he absconded with it after VI was finished.
Video link:
https://www.youtube.com/watch?v=YPMMO2sNYXU
Slater played the Excelsior Communications Officer in STAR TREK VI: THE UNDISCOVERED COUNTRY.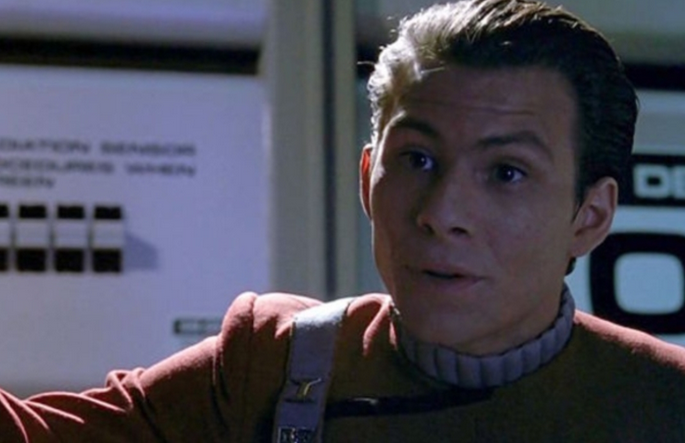 Slater wore, and now owns, William Shatner's uniform from STAR TREK II: THE WRATH OF KHAN.