FRIDAY, JUNE 15
STAR TREK: DISCOVERY---CBS fired showrunners Gretchen Berg and Aaron Harberts. They were replaced by executive producer Alex Kurtzman. Sources said Berg and Harberts created an "abusive" atmosphere with the DISCOVERY writing team. Ironically, Berg and Harberts replaced the original showrunner, Bryan Fuller.
GUARDIANS OF THE GALAXY VOL. 3---James Gunn commented on VOL. 3, "Vol 3 will end this iteration of the Guardians and complete the story of the three films."
GREEN LANTERN CORPS---the superhero movie is underway and will feature Hal Jordan and John Stewart. Geoff Johns is the writer. Rumors claim the MISSION: IMPOSSIBLE team of Tom Cruise and director Christopher McQuarrie will reunite for GREEN LANTERN CORPS.
THE JERRY SPRINGER SHOW---filming of new episodes has stopped which led to speculation the show has been cancelled. It first premiered in 1991.
BLACK MONDAY---Don Cheadle is the star/producer of this new Showtime comedy series about the October 19, 1987 stock market crash.
FORDLANDIA---Werner Herzog will direct this tv miniseries based on the book about Henry Ford's attempts to create small-town America in the Amazon jungle.
CONQUISTADOR: HERNAN CORTES, KING MONTEZUMA, AND THE LAST STAND OF THE AZTECS---tv miniseries underway based on the book about the war between the two empires.
CRYPTO---Alexis Bledel, Kurt Russell and Beau Knapp star in this movie about an anti-money laundering agent who uncovers a massive money laundering conspiracy in his hometown.
FEAR THE WALKING DEAD---a new AMC press release gives Lennie James first billing which hints that he is now the main star of the series.
AMERICAN HORROR STORY---Season 8 will be a crossover between COVEN and MURDER HOUSE.
TRIVIA---in ICE STATION ZEBRA, Murray Rose played Lieutenant George Mills who was knocked unconscious and drowned in the sabotaged torpedo room of the submarine USS Tigerfish. In reality, Rose was an Australian swimmer who won four gold medals in the 1956 and 1960 Olympic Games.
Gay Talese wrote in THE NEW YORK TIMES, "He has become, in a very short time, an All-Australian Boy among those looking for a hero Down Under. With his clean-cut good looks, his status there is comparable here to that of Mickey Mantle, whom Rose has never heard of." Gus Tager, Rose's coach in the 1960 Olympics, said Rose was, "the greatest swimmer who ever lived, greater even than Johnny Weissmuller."
Murray Rose in the sabotaged torpedo room of the USS Tigerfish.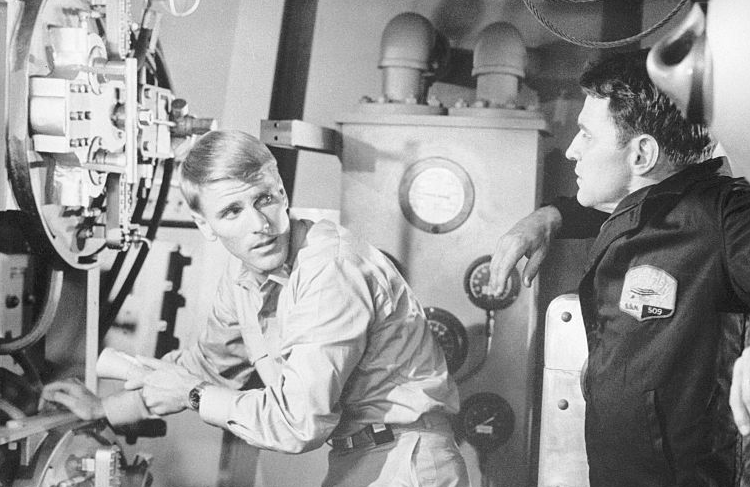 Rose with his fourth gold medal in the 1960 Olympic Games.