MONDAY, APRIL 23
SHARP OBJECTS---HBO trailer released for the Amy Adams miniseries based on the novel.
Trailer link:
https://www.youtube.com/watch?v=DgljcMqPG98
JURASSIC WORLD: FALLEN KINGDOM---new international trailer released.
Also, director JA Bayona commented on the sequel, "The first half, you have a whole dinosaur movie on the island, so you have what you expect from a Jurassic movie. Then the second half moves to a totally different environment that feels more suspenseful, darker, claustrophobic, and even has this kind of gothic element, which I love."
Producer Steven Spielberg added, "It has a wonderfully, deliciously scary third act. J.A. knows how to create terror, but he also knows how to orchestrate it so you're not brutalized by it, and he has the gift of restraint. But when he needs to open up the throttle, he really knows how."
Colin Trevorrow said about the third movie, "If I could contextualize each film, I would say JURASSIC WORLD was an action adventure, FALLEN KINGDOM is kind of a horror-suspense film, and JURASSIC WORLD 3 will be a science thriller in the same way that JURASSIC PARK was."
Trailer link:
https://www.youtube.com/watch?v=VC_T1Z-gwmg&t=8s
SKYSCRAPER---poster released for the Dwayne Johnson disaster movie.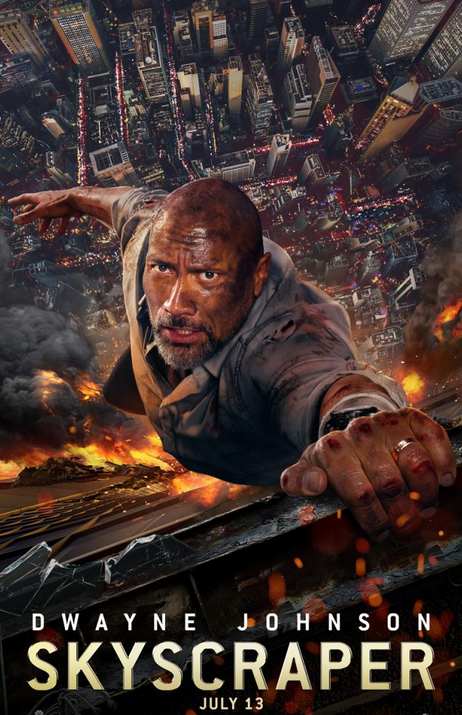 SOLO: A STAR WARS STORY---Ron Howard posted a photo showing his brother Clint's role in the movie. Other Ron Howard movies with Clint include APOLLO 13, THE PAPER and COCOON.
SUPERHEROES---James Cameron said he hopes the public will get tired of superhero movies soon, "I'm hoping we'll start getting 'Avenger' fatigue here pretty soon. Not that I don't love the movies. It's just, come on guys, there are other stories to tell besides hyper-gonadal males without families doing death-defying things for two hours and wrecking cities in the process. It's like, oy!"
Marvel Studios head Kevin Feige replied to Cameron's comment, "Uh, he loves the movies! That's awesome! Wow, James Cameron loves our movies! That's exciting,"
Cameron also talked about his AVATAR franchise, "It's a generational family saga. It's very different from the first film. In terms of the storytelling, I found myself — not for any reasons of the zeitgeist or what was popular — but I found myself, as a father of five, starting to think about, 'What would an AVATAR story be like if it was a family drama? If it was THE GODFATHER. Obviously, a very different genre, very different story, but I got intrigued by that idea."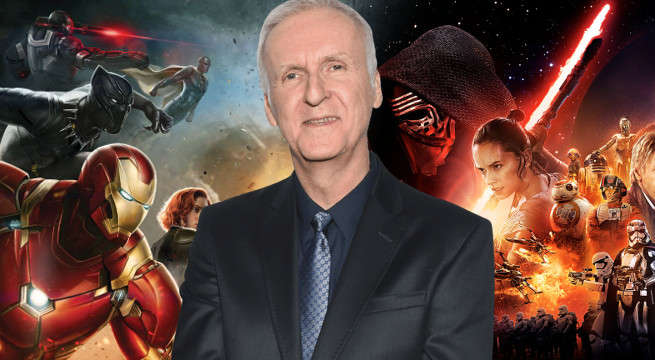 WESTWORLD---co-showrunner Jonathan Nolan said Season 3 might premiere in early 2020.
TOMMYKNOCKERS---Universal Pictures won the movie rights to the Stephen King novel.
NANCY DREW AND THE HIDDEN STAIRCASE---Sophia Lillis (IT) will star in the movie based on the Nancy Drew novel.
SHERLOCK--Martin Freeman said about returning to the series, "Being in that show, it is a mini-Beatles thing. People's expectations, some of it's not fun anymore. It's not a thing to be enjoyed, it's a thing of: 'You better f–ing do this, otherwise, you're a c–.' That's not fun anymore."
Benedict Cumberbatch didn't agree with his co-star's comments, "It's pretty pathetic if that's all it takes to let you not want to take a grip of your reality. What, because of expectations? I don't know. I don't necessarily agree with that … There's a level of obsession where [the franchise] becomes [the fans'] even though we're the ones making it. But I just don't feel affected by that in the same way, I have to say."
HANNIBAL---David Tennant said he was up the starring role, "I met Bryan Fuller a couple of times, and we talked about it. But I think they quite wisely chose Mads Mikkelsen, I think he was a perfect choice for it, and I think he did things with that character that I wouldn't have managed, so I think the right man got the job."
NICOLAS CAGE---the actor said he might retire from acting soon and turn to directing, "Directing is something I look forward to down the road. Right now, I'm primarily a film performer and I'm gonna continue doing that for three or four more years and I'd like to focus more on directing."
OUTSIDE---Carla Juri (BLADE RUNNER 2049) and Alec Secarenu (GOD'S OWN COUNTRY) star in this horror movie about a war refugee who falls in love with a woman who is with her dying mother in a wrecked house. He discovers the woman is enslaved to a demon, but things aren't as they appear to be.
ASH vs EVIL DEAD---Starz cancelled the series.
GHOST WARS---Syfy cancelled the series.
TRIVIA---more James Bond movie trivia.
Roger Moore's daughter, Deborah, had a cameo as a flight attendant in DIE ANOTHER DAY, Pierce Brosnan's last James Bond movie.