MONDAY, MARCH 18
GODZILLA: KING OF THE MONSTERS---new tv spot released.
Link:
https://www.youtube.com/watch?v=MnxerBqUZgw
THE WALKING DEAD---new trailers released.
Link:
https://www.youtube.com/watch?v=rFfJ0YnvfjI&t=8s
Link (SPOILER ALERT):
https://www.youtube.com/watch?v=FxTnOEtaxWw
Link (SPOILER ALERT):
https://www.youtube.com/watch?v=L3iG5gkliJU
ONCE UPON A TIME IN HOLLYWOOD---Leonardo DiCaprio released the poster for the Quentin Tarantino movie.
DUNE---Legendary Pictures and Warner Bros. announced that filming on the Denis Villeneuve remake movie has begun.
Also, Chang Chen (CROUCHING TIGER, HIDDEN DRAGON) is in talks to play Dr. Wellington Yueh, physician to House Atreides, in the remake movie.
BIRD BOX---author Josh Malerman, whose BIRD BOX novel inspired the Netflix movie, said his sequel novel, MALORIE, is underway, "In the time between Bird Box coming out and the time since I've been writing Malorie, I've been asked a ton of times: people want to know what happened with Boy and Girl. But as much as I care about Boy and Girl, this isn't their story. The Bird Box world is Malorie's story, and I wanted to know more about her. I wanted to get to know her even better."
The sequel novel will be published in 2020.
GUARDIANS OF THE GALAXY VOL. 3---Walt Disney Studios reinstated writer/director James Gunn after he had been fired by controversial tweets about pedophilia and rape.
JAMES BOND---Eva Green (CASINO ROYALE) talked about a female 007, "I'm for women, but I really think James Bond should remain a man. It doesn't make sense for him to be a woman. Women can play different types of characters, be in action movies and be superheroes, but James Bond should always be a man and not be Jane Bond. There is history with the character that should continue. He should be played by a man."
OPERATION VARSITY BLUES---finance executive Morrie Tobin, a Yale alumnus, was the tipster who alerted the FBI about the college admissions scandal that led to the arrests of Lori Laughlin, Felicity Huffman and others. Tobin is under FBI investigation for securities fraud and tipped the FBI in order to get a lighter sentence. A source said Loughlin blames Tobin, "Several parents are hurt, disgusted and feeling betrayed by the man who ratted out the Varsity Blues scandal, Morrie Tobin, including Lori Loughlin and Felicity Huffman. Lori Loughlin is very upset and up in arms over what Morrie did."
The source added, "She is placing a lot of this blame on him. She, along with several other parents cannot believe he would do this. They're livid. A lot of parents who feel just as stunned are rallying around her."
Huffman deleted her What the Flicka? parenting website after receiving considerable criticism following her arrest.
THE BATMAN---a rumor claims the movie is set in the 1990s.
THE BRIGANDS OF RATTLECREEK---Amazon Studios Western movie about a sheriff and doctor who team up to battle a group of bandits who terrorize a town during a thunderstorm. Matthew McConaughey is being sought for a starring role. Park Chan-woo (OLDBOY) is the director. S. Craig Zahler (BONE TOMAHAWK) is the writer.
AMERICAN GODS---Starz renewed the series for Season 3.
FANTASTIC BEASTS: THE CRIMES OF GRINDEWALD---JK Rowling commented on the gay relationship between Dumbledore and Grindewald, "Their relationship was incredibly intense. It was passionate, and it was a love relationship. But as happens in any relationship, gay or straight or whatever label we want to put on it, one never knows really what the other person is feeling. You can't know, you can believe you know.
So I'm less interested in the sexual side – though I believe there is a sexual dimension to this relationship..."
COUNTDOWN---Elizabeth Lail (YOU) stars in this horror movie about a nurse who downloads an app which tells her when she will die and discovers she is being followed by a mysterious man.
TRIVIA---more James Bond movie trivia.
Barbara Carrera turned down the title role in OCTOPUSSY to co-star as Bond Villain Fatima Blush in NEVER SAY NEVER AGAIN, Sean Connery's last James Bond movie. Carrera said she rejected the lead role in OCTOPUSSY for a lesser role in NEVER SAY NEVER AGAIN because she wanted be in a movie with Connery.
Barbara Carrera rejected the title role in OCTOPUSSY and played Bond Villain Fatima Blush in NEVER SAY NEVER AGAIN so she could be in a movie with Sean Connery.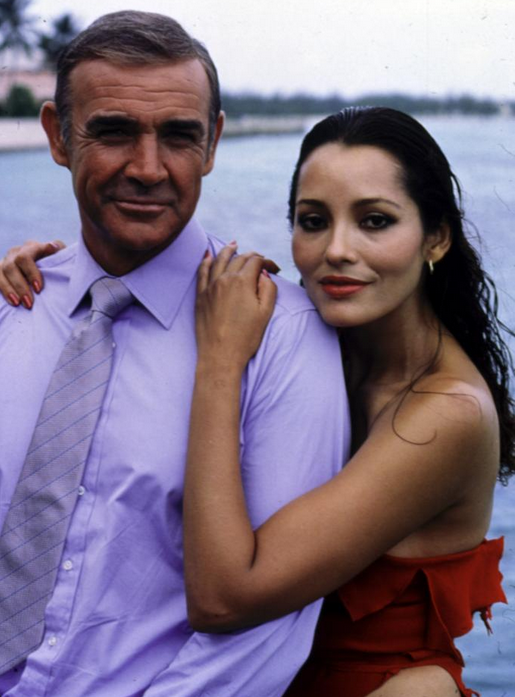 In NEVER SAY NEVER AGAIN, Carrera rejected an offer for a body double, and did the sex scene with Connery herself. Connery's wife, Micheline, showed up on the film set during the sex scene and supposedly watched to make sure the sex did not go beyond the film set.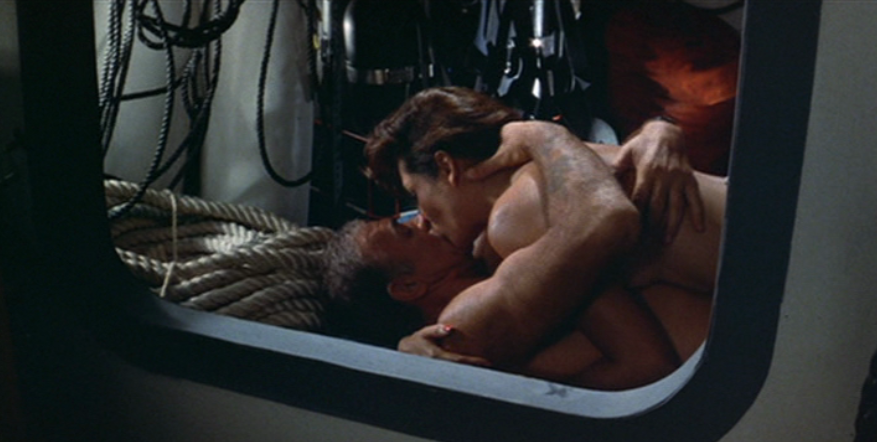 After Carrera rejected OCTOPUSSY, Maud Adams got the title role in OCTOPUSSY with Roger Moore.