Sony Unwraps Two New Media Players
Melissa J. Perenson, PC World
timestamp(1231386900000,'longDateTime')Jan 7, 2009 9:55 pm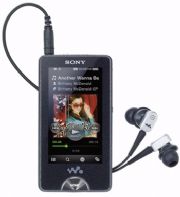 Sony unleashed two new model Walkmans in its latest effort to put a dent in
Apple's stranglehold of the digital music player market
.
Sony unveiled the new music players during its press conference at the
Consumer Electronics Show in Las Vegas
.
Sony'snew Walkman X-Series sports a 3.5-inch OLED touchscreen display andincludes WiFi for downloading podcasts, streaming video from YouTube,and more. The X Series will be available early this summer in 16 GB and32 GB capacities, with pricing yet to be determined.
Available inApril, Sony's Walkman W Series features a cord-free design integratingthe music player into the headset--a design meant to be lightweight andcomfortable. The W series can fully charge its estimated 12-hourbattery in only 30 minutes, while most other audio players take a fewhours to recharge. The W Series wil be available in April with supportfor protected and unprotected WMA, as well as unprotected MP3 and AACformats.

Whileat the Sony booth, I had a brief hands-on with The Walkman W Series. Ituses a control mechanism that Sony calls "ZAPPIN," a small job wheellocated on the under-side of the right earbud. Turn the knob forward toskip to the next song, flip it back to play the previous song, andclick it to play or pause your music. I like the idea of a music playerintegrated into the headphones; it seems like an obvious evolution, andjoggers will be pleased. The only obvious downsides I saw in my briefhands-on in the Sony booth was the fact that the volume rocker andZAPPIN jogwheel are close together and about the same size, so they maybe easy to confuse.